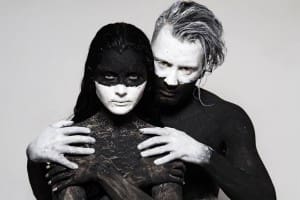 I recently discovered the debut album "Lost In Fog" from the Georgian male-female duo Phonothek. The dark-ambient style of the band is totally appropriated to the Cryo Chamber roster although it clearly sounds different. There's an original approach in sound mixing electronic- and acoustic instruments.
(by Inferno Sound Diaries)
Q: Phonothek is a rather new name at the wider fields of dark-ambient music. How did you get in touch with this kind of music and how would you define your own sound?
Phonothek: I like it so much to mix genres and emotions together during composing process. Sometimes I even step in chaos and I don't really care about what causes it. For me personally music is more important than the effectiveness of effects. Phonothek is not a typical dark-ambient project as there is more freedom so the listener can choose the mood himself. In my music the major mood is already stated by trumpet or strings while a typical dark-ambient space holds the sadness in it. I think it would be good to listen to Phonothek before sleep or just to make yourself feeling sad.
Q: What have been the main sources of inspiration to compose "Lost In Fog" and what does this debut-album mean to you?
Phonothek: My inspiration was trumpet. The first track "Old Swings" was not a planned project or some kind of genre searching or choosing, one ordinary night I just sat in the studio and did it. That track has absolutely changed my musical choices. We spend our free time is studio and trying to do our best. I think it is a good result.
Q: So is there any deeper and maybe conceptual meaning behind the title "Lost In Fog"?
Phonothek: "Lost In Fog" is the situation a person got into. The life where person got lost. Nothing is visible, but only the closest things and he doesn't know where to go. But he still keeps walking with hope that the fog will disappear. This state is very comparable to the daily reality of humans- we're still in fog.
Q: Tell us a bit more about your way of working and composing?
Phonothek: We have our recording studio in a very old concert hall. The hall doesn't function anymore because of the decay. It's half ruined inside, walls are burned, there are lots of metal constructions on the stage and all that looks very mystic and attractive to us. There're lots of weird noises here in the building, it makes you feel that it's somehow alive and because of its age you're hearing its last breath. Our recording studio is on the last floor of the hall but sometimes we move it on the stage and make music there. That's our favorite process and condition, very honest, pure and deep.
Q: You already evoked the trumpet, which is one of the main characteristics of the album. How did you come to incorporate this specific instrument to your work and will it become a kind of 'trademark' for further releases and live performances
Phonothek: Trumpet is so close to my heart and spiritual reality. Its timbre is very emotional and most saddened as well. We are already working on a second album and trumpet is actively used in it. Also we use viola, cello, trombone and horn.
Right after releasing our first album we started working on new tracks. The second album is already finished and it will be released soon. Right now we are not really into live performances, but we have an interesting project in our mind and soon listeners will know about it.
Courtesy by Inferno Sound Diaries
Original Source: Side-Line Music Magazine