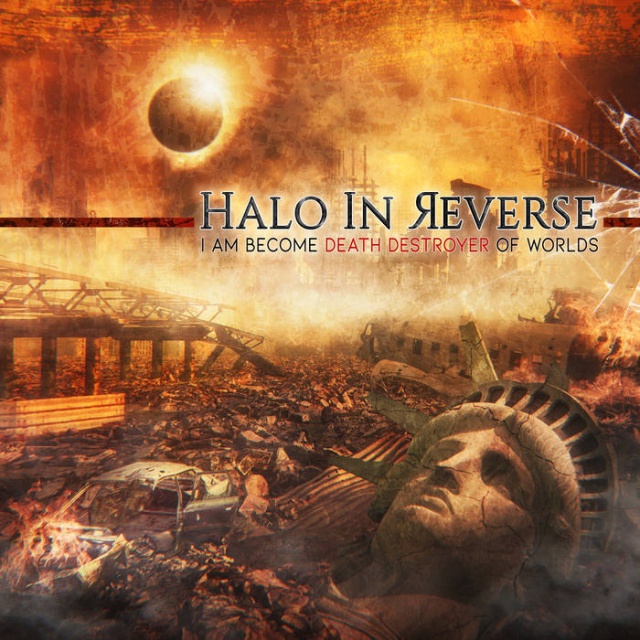 On his much anticipated new album "I Am Become Death Destroyer Of Worlds", the rebellious Halo In Reverse powerful machine is heading at full speed against all forms of tyrannies and nothing will stop Joshua Steffen from spitting his rage on all war waging US presidents. And songs like "The Tyrant", the now classic club hit "King O", "A River Red" and "Beating The Drum" speak for themselves!
Still strongly rooted in the electro / industrial rock genre, Halo In Reverse significantly widens his sonic spectrum by bringing his characteristic clash of groovy bass lines against gritty incisive guitars to the next aggravating level. The overall tone this time is more aggressive but also more passionate and poignant. The subtle combination of deviant melodic electronics with highly expressive tormented vocals turn these new songs into dangerous intoxicating addictive tunes! And it's just a matter of time until you'll fall into his claws...
While letting his caustic synthesizers flow and percolate intricate song arrangements mixing trashy guitars with echoing dramatic piano rolls, Joshua Steffen delivers another electro record filled with emotion and the pain that only love can bring us when it is no longer returned, turning into a true catharsis helping him exorcising some personal demons and unleashing his raging sexuality on lustrous and decadent songs with attitude ("Five To The Wrist", "Dirty Girl", etc.).
"I Am Become Death Destroyer Of Worlds" also has its surprises and unpredictable moments with the depressive and almost psychotic punk-wave epic cut "That Is What It Feels Like In My Head" or yet the manic cover of Black Sabbath's "Into The Void" and the so well fitting take on Jesus & The Mary Chain's classic "Reverence", or last but not least the catchy simplicity of "Let You Down", a love-song full of grandeur and sincerity…
Original Source: AlterNation Music Magazine