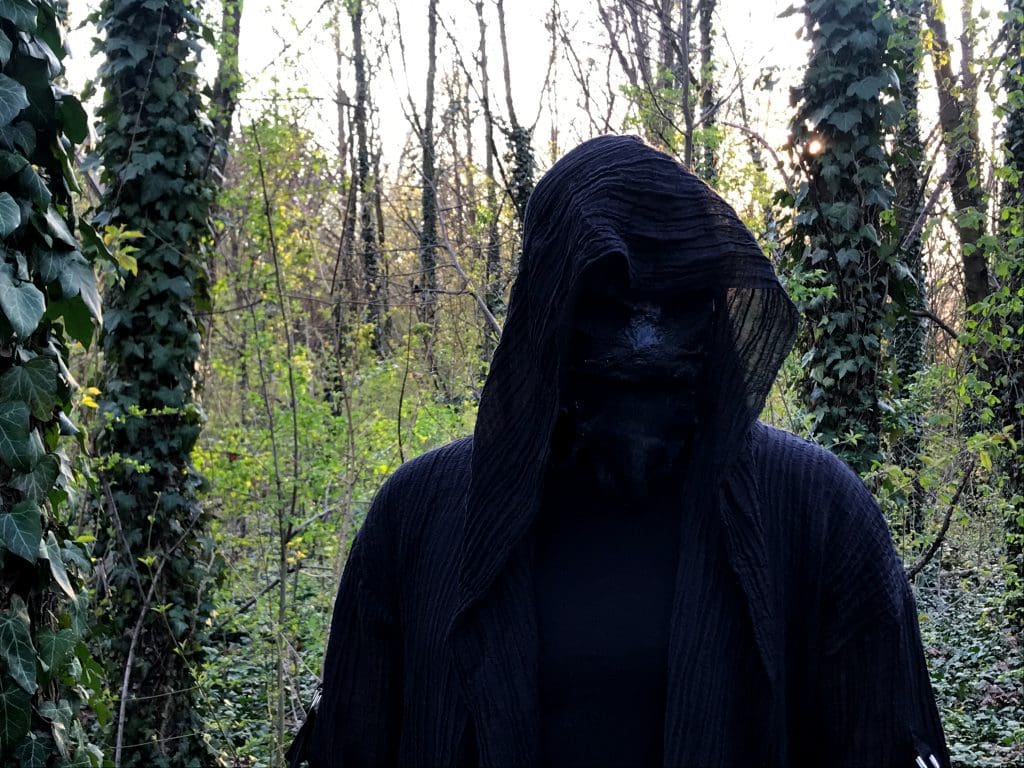 Pavor Nocturnus is an Italian solo-project driven by Eugenio Mazza. He this year released his newest album by Cyclic Law. "Ecatombe" is a poignant production featuring elements of Dark-Ambient and Cinematic music while you'll notice numerous Industrial sound treatments and slow rhythms. I can't affirm this album innovates although it has an atypical and refreshing approach.(Courtesy by Inferno Sound Diaries)
Q: What can you tell us about your music background and what have been the triggers to set up Pavor Nocturnus?
Eugenio: I think the roots of my music are in between my classical piano studies, extreme Metal and Soundtracks for movies and videogames. When I started my project I was in search of a musical language that could fit with my expressive needs and that could give me the creative freedom I was looking for, despite I was not that much into Electronic music; later on I started to discover more Electronic artists and genres.
Q: You're now busy for a couple of years and released several albums plus collaborative productions. How would you describe the sound and eventually 'concept' of Pavor Nocturnus? And how do you perceive the evolution of the project?
Eugenio: Pavor Nocturnus Is my personal display of what I experience in my life, a musical manifestation connected with fear (that lies in the monicker too), dreams and some kind of spiritual perception, although I am not a religious person.
The sound of the project is variable but its foundations are dark and unsettling as a nightmare. Sometimes it is unclear for me too, but I am understanding that the better I feel (as a person) the darker my music becomes.
Q: Tell us a bit more about your way of composing music? What are the main stages in the creation of your sounds/noises/field recordings/rhythms etc. resulting to tracks/albums?
Eugenio: If the concept is well defined in my mind I start to translate it with sound design or collecting samples, otherwise I usually start playing with some instruments and I get carried away.
I have made large use of field recordings while I was working on my previous album inspired by H. Bosch's paintings, but for this album I chose to sculpt sounds on synths or work with samples and previous recordings. When I have all the sounds I need I start to record and build the tracks, trying to keep in mind how to reproduce them live.
Q: Your new album "Ecatombe" has been composed during the confinement. What has been the impact of this particular situation to the creation- and content of the album? And what do you want to express?
Eugenio: "Ecatombe" originates from the time spent in confinement but it is not an album about the pandemic. It is a journey through the thoughts and emotions that stormed during those days. Many suggestions have been collected from different inputs, I have been diving into very unpleasant moods, so I decided to translate all those feelings in sounds, re-elaborate them as archetypes and finally dispel them.
One thing (I think) I wished to express was the urge to escape that stagnant existence we all were living.
Q: What have been the high lights in the creation of this work? And how do you look back at the result right now?
Eugenio: Working on the tracks was a smooth process, the concept behind each composition was clear except for "Abisso" and "Supplica"; I had to understand what I was experiencing while composing those tracks, get back to the moment when my mind was drowning and I could not see the bottom of the abyss. That's why "Abisso" is the longest track of the album, like an endless descent.
I think this is my most intimate album so far, I am pleased with the result and with the feedback coming from people during live performances.
Q: Talking about performances, how do you transpose your music and equipment from the studio to the stage and how do you see yourself as a live artist/performer?
Eugenio: I usually try to build the foundations of my tracks on the same setup I will use for live performances, then I make some adjustments and prepare samples for the synths/sounds I can't take with me live. I also like to have some space for improvisation, the live tracks will not sound exactly the same as they are on the album.
The more gigs I play, the better I understand how I want to engage people during my performances, figuring out what is effective in a live set and what is not.
Considering that there is no interaction between me and the audience except for the music, I am trying to improve my formula to obtain that kind of engagement I look for when I am attending a concert.
The post Click Interview with Pavor Nocturnus: 'A Musical Manifestation Connected With Fear, Dreams And Some Kind Of Spiritual Perception' first appeared on SIDE-LINE MAGAZINE.
Original Source: SIDE-LINE MAGAZINE