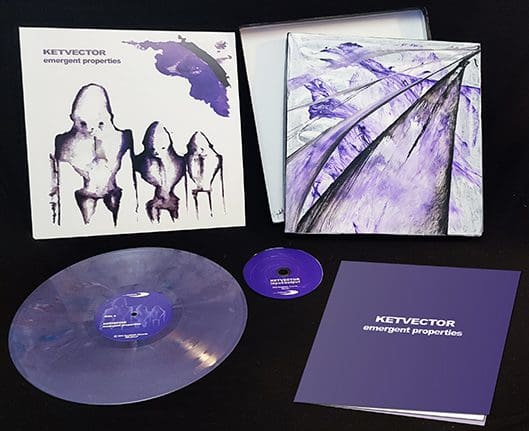 Out via Rustblade on November 3rd is the Ketvector album "Emergent Properties" in a limited edition of 300 copies on white vinyl. Ketvector is the brainchild of drummer and producer Justin Bennett (Skinny Puppy, My Life With The Thrill Kill Kult, Banhtier, Askew) and offers a mix of psychedelic electronica, acid jazz, ambient soundtracks, theoretical cosmology and much more.
Accompanying Justin are his long time musical partners Stefano Rossello and Filippo Corradin (Bahntier, Motion Kapture).
The release also comes in a special limited Edition of 99 copies hand-painted box (each copy is unique) by the artist Matilde Giudicelli. This box-edition includes the regular album on exclusive purple marbled vinyl plus the exclusive bonus-CD "Input/Output", featuring a medley [approx. 25 minutes] of 4 unreleased b-sides. The box also contains a big sized booklet with informations and images about the concept of this album.
Check the first tracks already right below.
The post November release for new Ketvector album 'Emergent Properties' in 2 extremely limited editions first appeared on SIDE-LINE MAGAZINE.
Original Source: SIDE-LINE MAGAZINE