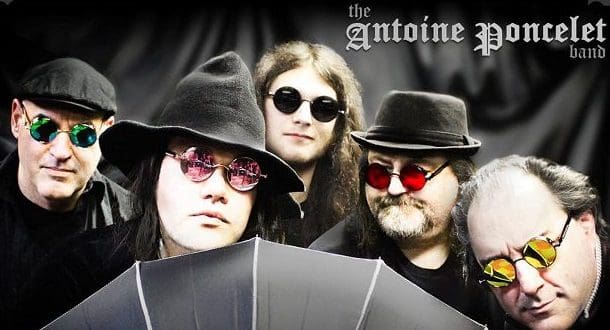 New Jersey's dark rock act The Antoine Poncelet Band has unveiled their debut single; the cinematic dark rock track, "April".
The band says this about the song: "The song tells the tale of an imagined conversation between a forlorn lover and a prophet of sorts unable to find balance between heaven and earth.. love and purpose and so on. It's also about an aspect of the writing process and inspiration; the artist begging their muse for something real and true."
Also released with "April" is a cover of Roxy Music's debut single "Virginia Plain".
Below is the video for the title track.
Coming up in early July is the new 2-track single "Strange Violence". More singles and music videos will be readied for release over the next year.
The project was started in 2021 by the former frontman of the post-punk act Precious Bones. He was soon joined by Santos Menendez on keyboards and synths, Mark McClemens (Goon Saloon/Porch Rockers) on the bass, Peter Quilla (Vigilante Cowboys) on the guitar, and Eddy Enzyme Salek (The Misfits) on drums.
The post Dark rock act The Antoine Poncelet Band drops video and single for 'April' ahead of new single release 'Strange Violence' first appeared on SIDE-LINE MAGAZINE.
Original Source: SIDE-LINE MAGAZINE