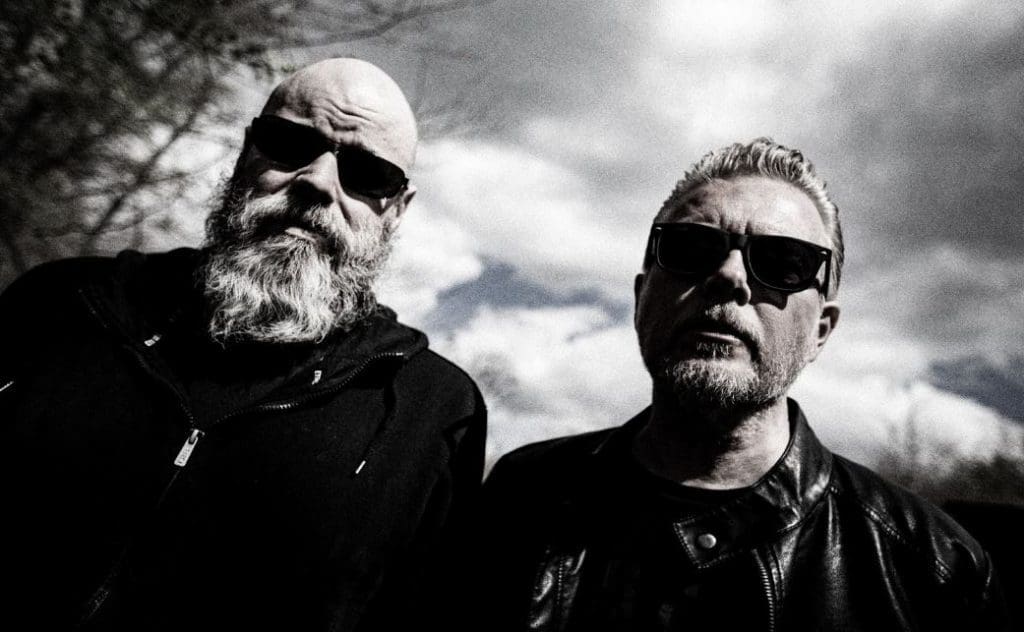 (Photo credit Anders Larson) The Swedish industrial band The Below has a new single and video out, "Artificial Lights (Dystopian Haze)" featuring Aaron Sutcliffe. Aaron Sutcliffe is an alias of Johan Malmgren (of S.P.O.C.K) used for recording electronic covers of classic rock songs. The single is out on the 9th of June but we can already present you the video today which was shot in Lviv, Ukraine, in April 2023 by an all-Ukrainian team..
The single explores the theme of fear and the experience of living in bomb shelters after the brutal Russian invasion of Ukraine.
This is not the first time that The Below and Aaron Sutcliffe have collaborated on a politically charged single: "Our previous release, 'No Place is Safe', explored the violence and destruction of Israel's assault on Gaza in 2014 and gained a lot of attention, particularly in Palestine." Regarding the new single The Below says: "I am excited to be collaborating with Aaron Sutcliffe again on this project. The events that took place, and still are taking place in Ukraine are truly horrific, and we hope that this music can help raise awareness of the plight of those affected."
Kate Tiuri, the director of the video, commented on the production, stating: "War doesn't stop culture! We continue to stand, to speak, and to create. In this musical piece, I want to grasp that tragedy can go alongside beauty. We demonstrate the beauty of Ukraine through dance – a contemporary duet that embodies the strength, resilience, pain, and indomitability of the Ukrainian people."
About The Below
The Below is a solo project by Bo Magnusson, the sound engineer/bass player from the Swedish industrial experimentalists Dr. Evil & The Boys From Below (1985-1992). A band that had a strong local following thanks to their spectacular stage performances featuring pig's skulls, hovering washing machines, a truck load of scrap metal etc. After the band took an indefinite break in 1992 there were no plans to continue producing music.
However, in 2015 things changed and a few saved objects and instruments were dusted off and slowly new noises were created under the moniker The Below. So far, The Below has released five singles: "Knives and Heights" b/w "Grind Me Down", "Unarmed (An American Nightmare)", "I'd Like to Punch Him In The Face", "Change is Coming" and "No Place is Safe".
The post Swedish industrial act The Below presents new single (featuring Aaron Sutcliffe) and video shot in Ukraine: 'Artificial Lights (Dystopian Haze)' first appeared on SIDE-LINE MAGAZINE.
Original Source: SIDE-LINE MAGAZINE