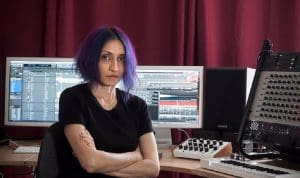 Shikhee D'iordna was born in Bangladesh and schooled in England and the USA. She set up Android Lust in 1995, she released her first work on cassette format while the official debut album got released in 1998 on Tinman. She also worked together with Projekt and finally set up her own label: Synthellec Music. Shikhee is an independent artist who takes care of every little detail, which maybe explains why she's not releasing new work every single year. She this year released her newest album inspired by the great city of Berlin, which according to me also is one of her best albums to date.
(Courtesy by Inferno Sound Diaries)
Q: You released your very first work (on cassette format) exactly 20 years ago now! What are the first things that come into mind when evoking the early years of Android Lust and how do you see yourself as an artist today?
Shikhee: I am starting to find that young artist again. In the early 2000s I got pretty disillusioned with music and music business in particular. Things were a lot more exciting when Android Lust began and I feel I am starting to tap into that again in the last few years. When I started out it was a blank slate and the years piled of expectations which had become a burden. I am trying to navigate out of that and slowly.
Q: You seem fascinated and inspired by 'cities'. Where does this fascination come from and how do you transpose this concept into music?
Shikhee: Cities are so rich and filled with so much character. One picks up the flavor of a city from its people, food, music and art. And of course one's own experiences color it greatly. I traveled a lot as a kid with my family and I think that instilled a thirst for travel, learning about cultures and a feeling of belonging nowhere and everywhere at the same time. I have this romantic notion when I record environmental sounds, nothing again will have those very same frequencies in the same order at the time I capture them. It's me making sonic time capsules.
Q: Your newest work has been inspired by the great city of Berlin where you spend several days visiting museums, buildings, famous studios ao. What makes the magic of Berlin or what makes the city that special? What did you feel being there and do you have favorite places?
Shikhee: A lot of my musical influences had their origins in Berlin so I wanted to travel there for inspiration. I wanted to surround myself in a new place with new experiences while keeping my focus on gathering sounds. It's a city that doesn't let you forget its history and you can feel its weight wherever you go. I enjoyed East Berlin in particular.
Q: You clearly didn't want to compose a similar album as "Crater Vol. 1", which was more into instrumental- and cinematographic music. This opus is more into the 'classical' Android Lust-approach although maybe darker and more minimal! Tell us a bit more about it all?
Shikhee: I originally intended to write more like "Crater Vol.1" but after I started working on the sound design I found myself leaning more towards some structure, but they came out stark and minimal. Also some tracks ended up picking up techno influences from some of the current artists I am listening to like Kanding Ray. The only album that ever stayed true to my initial concept was "Crater Vol.1." Every other piece of work decides midway where to go and I have to allow it.
Q: Are there some plans about live performances in Berlin and/or other European places and what's the importance to play live?
Shikhee: Android Lust has never played Europe so I'd love to do that at some point. I think that's the next frontier for Android Lust live.
Q: Android Lust is now active for more than 20 years! What has been the impact of this project and being an 'artist' on you and what are your further artistic plans?
Shikhee: Making music is what I do so I'll continue to do that. Being a musician certainly has not been an easy life, specially as an independent artist who happens to be a woman. Still, there is a certain satisfaction in having lasted this long in a field that has been less than friendly to someone like me who never conformed.
Original Source: Side-Line Music Magazine