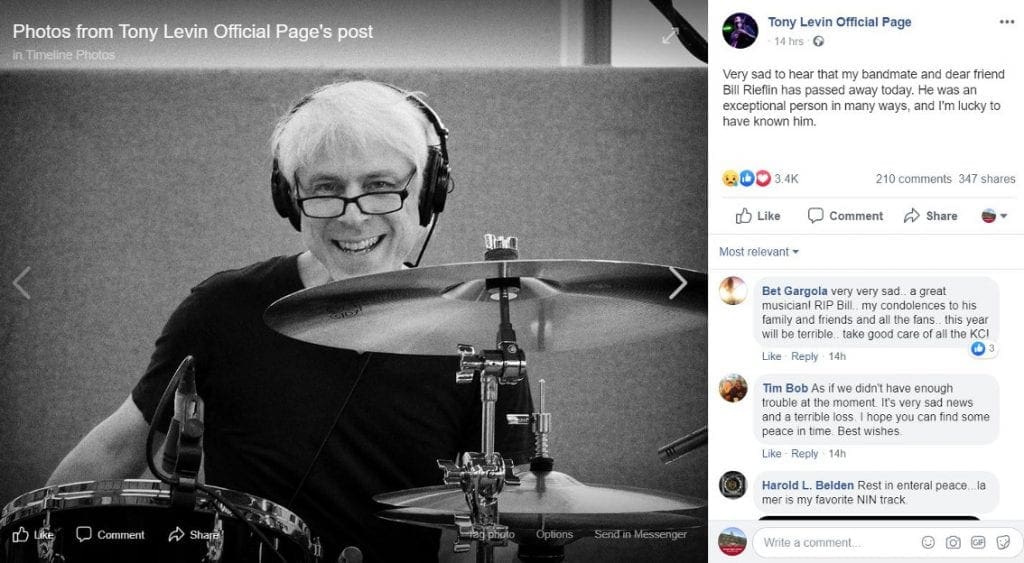 Drummer Bill Rieflin, know for his work with such bands like Ministry and Nine Inch Nails, died from cancer on Tuesday (March 24), aged 59. Besides working with Ministry and Nine Inch Nails he also played drums with the Revolting Cocks, Lard, KMFDM, Pigface, Swans, Chris Connelly, King Crimson, REM, among other projects.
Rieflin's death was confirmed by Robert Fripp.
Born in Seattle, Bill Rieflin first joined The Telepaths and The Blackouts until he started working with Ministry, with whom he recorded albums like "The Land of Rape and Honey" (1988) and "In Case You Didn't Feel Like Showing Up " (1999). Over the years, he has been involved with several projects, especially industrial rock / metal related ones.
In the 2000s, Rieflin joined REM, recording albums like "Around the Sun" (2004) and "Collapse into Now" (2011). He then joined King Crimson, with whom he recorded live records and toured.
Rieflin was married to painter Francesca Sundsten until her death in 2019.
The post R.I.P. Bill Rieflin – Ministry / Nine Inch Nails drummer looses battle with cancer appeared first on Side-Line Music Magazine.
Original Source: Side-Line Music Magazine