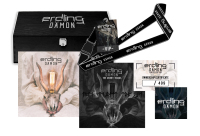 Erdling have conjured up a highly addictive demon from a fusion of Metal, Electronica and Neue Deutsche Härte on their third album "Dämon" – a beast that will snatch you and not let you go.
The prolific quartet fronted by the energetic front man Neill Freiwald has finally let the demon out – no more compromises, unleash the beast! Thus, Erdling are deliberately pushing their trademark sound of catchy, German-language anthems on a foundation of electronics and hard guitars to the extremes. The guitars are really in your face, punching out of the speakers and providing a refreshing counterpart to the synthesizer-driven grooves. Neill lets go completely, driving the songs with a quite impressive range from deep, aggressive growls to melodic singing. And even though the sound has become quite infernal, the band never loses focus on the melodies that always were vital to the Erdling-sound. Quite the contrary, the catchy parts seem to stick out even more when surrounded by this thunderstorm of aggression. Hence, it is little wonder that Erdling have also embedded their most intense song to date, the breathtakingly beautiful ballad "Schau nicht mehr zurück" (Don't look back), in the midst of all this mayhem. "Dämon" is a massive step forward for the band… so much that it seems the previous albums have been mere overtures to this massive fusion of heart and raw power. The beast is now out of the box – so take care!
"The Secret Tracks" contains seven exclusive versions of Erdling songs and emphasizes the many-sideness of the band. While "Tieftaucher" has been morphed into a breathtaking electro-industrial version, the ballads got polished with synthesizers and acoustic elements. A rare demo version of the unmistakable super-hit and debut song "Blitz und Donner" is the massive highlight and marks the perfect ending for a very special bonus CD.
Original Source: AlterNation Music Magazine